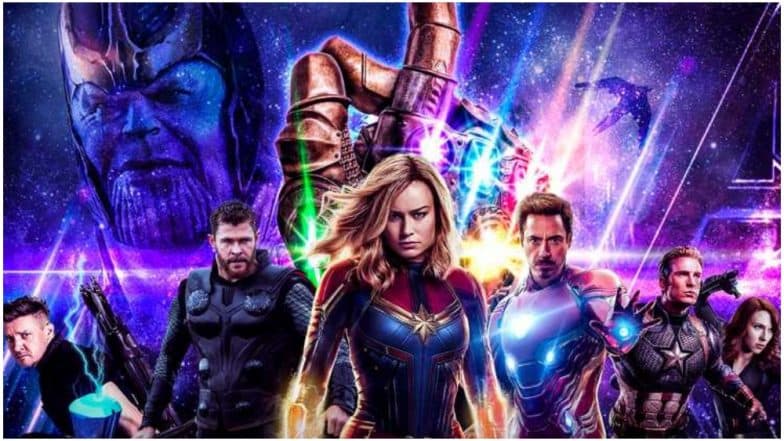 Avengers EndGame art poster (Photo Credits: twitter)
It is a sad state of matters that not even the might Thanos couldn't stop Avengers: EndGame for being a victim of online piracy. Yes, Avengers: EndGame becomes the latest in the line of films that have become the target of the piracy group TamilRockers. Several Cam prints of the film have made it to various torrents websites on April 24. What's make the fiasco more stinging is that, the movie is still to release officially worldwide. Avengers: EndGame is due to release on April 26 all over the world, including India. Avengers EndGame Box Office: Can the Marvel Film Make a Billion Dollars Over Its First Weekend? Not Impossible, It Seems!
That said, the movie has its premiere on April 22, and later released in certain territories, like Australia. So we are not sure in which country the leak happened. Whatever the case may be, it is quite unfortunate that the movie got leaked on torrents and is available to download even getting a proper release elsewhere.
Check the screenshot of Avengers: Endgame torrents from the website, torrentz2.eu below:

Photo Credits: Torrentz2.eu
Considering – the scope and scale of the film, we wonder how the downloaders will have any fun watching Avengers: EndGame on their laptops and phones, that too, in what we presume to be= a bad print.
Let's hope that Marvel cracks down upon these illegal torrents and get them removed, like they do with spoilers posted on Twitter and YouTube.
Meanwhile the first reviews of Avengers: Endgame are in, and they are in praise of the film. The movie is also expected to take a mammoth box office opening in the week ahead, with trade experts predicting collections of about $900 million opening weekend earnings.